In another first for Indonesia, on Friday 29th September 2017, Samson Tiara, in conjunction with Wild Geese Group from Malaysia, received OPITO approval to deliver the Control Room Operator (CRO) Emergency Response Assessment course.
With this approval, Samson Tiara and Wild Geese Group become the first in the world to offer the full suite of OPITO Emergency Management Training and Assessment programs for Industry which include: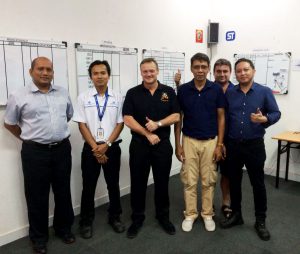 OPITO Offshore Installation Manager – Controlling Emergencies (OIM-CE)
OPITO Major Emergency Management – Initial Response (MEM-IR)
OPITO Plant Manager / Incident Commander – Initial Response (PMIC-IR)
OPITO Control Room Operator Emergency Response – (CRO)
Jim Truesdell, President Director of Samson Tiara, had this to say about the CRO approval, "Samson Tiara made a commitment to bring world class training to Indonesia in 1994. We are proud to show our continued devotion to this commitment by completing the certification of our suite of world class emergency response training. We would also like to thank Wild Geese Group for their continued assistance in making Indonesia one of the first countries to have this entire suite of training."
About CRO Emergency Response Assessment
The OPITO CRO Emergency Response assessment has been developed to assess a delegate's performance in controlling emergencies and critical situations while carrying out the duties of the CRO. It is meant for personnel who are currently working as CRO or those that are about to be appointed to the CRO position.
After a short interactive theory session, the delegate will be required to demonstrate their responses to realistic control room situations in an environment that is similar to that in which they work. A computer based simulator, with basic process logic and flow, will be used to support the expected responses to be made in the position of the Control Room Operator during Emergency situations. Each session will be followed by a one-on-one debrief, highlighting strengths and weakness levels observed by the assessor.
This course, which takes between one and three days to complete depending on the number of attending delegates, is conducted at Samson Tiara's award winning training facility in Cilegon, Banten, Indonesia, a one and half hour drive west of Jakarta.
For more information on this or any of the other courses Samson Tiara provides please contact us any time at marketing@survival-systems.com.
Press Release 2/10/2017
---
P.T. Samson Tiara is the leading provider of onshore and offshore safety and survival training services in the Indonesian market. From their award winning facility in Cilegon, P. T. Samson Tiara has been providing safety and emergency response training since 1994 and was the first to bring OPITO approved training to Indonesia.
Wild Geese Group is internationally recognised as being at the forefront in providing Oil & Gas and Petro-Chemical Industries with Emergency Response and Management Training, Operational and Consultancy Services. Since 2004 they have won multiple international awards for their training services.
OPITO is a non-profit oil and gas training standards and accreditation body whose mission is to support the industry to build sustainable, competent and safe oil & gas workforce to ensure that quality, innovation and partnership underpin everything they do.